Richard Todd, maker of Frackman, is one of the inaugural 2014 Good Pitch² Australia filmmakers. In 2016, he's back with DYING TO LIVE—a documentary (pitching Nov 8 at Opera House) about organ donation in Australia: our flawed system and pitiful track record when it comes to giving organs to people who desperately need them. (WATCH "The World's Biggest Asshole" made for the US donor campaign at the end of The Chat).
'Toddy' as he likes to be called, is always direct, utterly irreverent and often funny because he says unexpected things out loud, undercutting any effort to keep things on the straight, predictable and narrow. But his films also reveal a Frank Capra like interest in stories about the private and public battles of  individuals without economic or professional power who challenge what they think is wrong, or lacking, and set out to change it by putting themselves and their lives on the front line
His film Frackman, about accidental activist Dayne Pratzky and his battle to stop CSG mining on his modest block in Queensland, brought together not only communities threatened by CSG but a bi-partisan tangle of supporters rarely seen on the barricades: conservative landowners, the Greens, broadcaster Alan Jones, Actors Jack Thompson and Michael Caton, Christian Democratic Leader Fred Nile, Artist Reg Mombassa and Former Leader of the Greens, Bob Browne. And that's not the whole list.
Since Frackman's release and impact campaign, CSG mining leases and agreements in NSW have been reduced from 80% to 7%. Meanwhile, Victoria has become the first state in Australia to introduce legislation on banning the exploration and development of unconventional gas, including CSG fracking.
These changes are the result of sustained campaigning by communities across Australia and the film has proven to be a powerful advocacy tool.
Take a bow, Toddy.
Header Photo: Anti Coal Seam Gas mining protest, Tara, Queensland. (L) Drew Hutton, President Lock The Gate Alliance and Dayne "The Frackman" Pratzky. Photo: Andrew Quilty / Oculi for Smith & Nasht.
THE CHAT
PJB: When you first applied to Good Pitch² Australia in 2014, had you ever worked in the social impact domain with documentary?
RT: I'd had an accidental run-in with the Good Pitch sort of idea.
PJB: Tell me about that.
RT: In 2004, I began work on a film God Made Them Blind. It was the story of a West Australian guy who set up in Bali and restored sight to about 40,000 people via cataract surgery. He wasn't an eye surgeon, he was a potter who'd had a bad accident, died on the operating table a couple of times, ended up in hospital for two and a half years with brain damage and somewhere along the line, he'd had a revelation. He felt he'd had a calling to return to Bali. So, he heads off to Bali and sets up a Fred Hollows-like service there using buses and mobile clinics. Anyway, over a four-year period I made a doco about him and by the end I was thinking: How we can use the film to raise funds for his foundation (the John Fawcett Foundation)? We ended up raising half a million dollars through one lunch in Adelaide and an introduction to a philanthropist who donated a mobile clinic bus.
PJB: But you didn't start off making the film for that reason.
RT: I made the film because I thought his story was heart-breaking and he was doing something amazing—he had incredible tenacity. It made me put even more effort into the film thinking there was going to be some sort of pay off to John and his foundation. I felt obliged to use the film as a tool. So, I guess I did my own social impact campaign but with no budget or much help.
PJB: When we were at Kangaroo Valley for the first workshop with the 2016 crop of films, your EP Janine Hosking, a documentary filmmaker who has made some incredible films (My Khmer Heart, Mademoiselle and the Doctor, Ganja Queen among others), remarked that it's sometimes disappointing and depressing to make films about extraordinary people battling to make change happen because the film does the rounds— festivals, television, DVD, VOD—but there's often no significant shift.  After all that work and serious intention, it must be infuriating and it's not as if there's a financial reward with documentary.
RT: Yeah, it is frustrating. And why it's been useful to see what Good Pitch has achieved—not only the support of the films but the shift that the brand, the idea has created in the social change areas that each of the films' impact campaigns are focused on.
PJB: Domestic violence, Health, LGBTI families, Indigenous incarceration, sexual violence on university campuses … the list goes on. Hey, what about the legislation to ban unconventional gas, including CSG in Victoria?
RT: I know!… I was so depressed when the Federal Energy Minister got together with the equivalent of the COAG energy ministers and made the announcement that Australia is open for business again with regards to Gas… We need to open up all the fields, NSW needs to re-think their moratorium, we need to follow the example of Queensland. I thought, Here we go. The fight's on again. And then Bang! The following week, Victoria says, We were at the meeting and we're not in. We're revving up the CSG debate again in Western Australia.
PJB: Your film was one of the few when you applied in 2014 with Frackman, along with That Sugar Film, close to completing production. In those early days, did you have expectations about what Good Pitch might deliver for you and your film?
RT: We were still filming and editing when we applied. I didn't know much about Good Pitch but Kate Hodges, our production manager, said she was going to apply and she did. It was wait and see but we didn't really understand the scope, level of expertise and support of GPA. I'd never been embraced like that as a doco maker and in all those ways.
PJB: What were those ways?
RT: Right from the beginning, we were exposed to people who were professionals in their fields… I didn't know much about philanthropy or policy or the lawyers who gave legal advice or people who specialised in pitch trailers or have been working in a specific issue area on the frontline. When you hear a specialist who volunteers ten, twenty or more years of experience and gives it to you in jewels…. You grab hold of them…
That's what struck me about the Good Pitch experience, everyone was so willing to share knowledge, contacts, expertise. The pitch workshop that happens the weekend before the Good Pitch day… just having to deliver the pitch was really important. But when we turned up for that weekend, I didn't know I'd have to stand up there and make a little speech—I was like WHAT?
PJB: But how did you think you were going to do it on the day at the Opera House?
RT: I didn't… I mean, I hadn't given it much thought.
PJB: I've been at those workshops and what's amazing is that no-one has sorted their pitch on Day One. But after coaching, re-working, re-writing and distilling the message…by day three, they are hitting their marks. Come the event, the pitch is a song. Everyone rises to the occasion. It's weirdly thrilling observing the transformation… Can you imagine turning up at the Opera House on the day, and being let loose on that audience? They're a highly intelligent and discerning audience—and they are there to listen but you wouldn't want to bore them. It's nerve wracking enough with the prep and timing but anyone left to their own devices can get it, well, very wrong.
RT: And I'm not scared of public speaking… I've spoken to crowds of 50,000 but I go off the cuff.  That day at the Opera House was kinda harrowing for me—
PB: You only have two minutes (Impact producer has 2 minutes and the trailer runs for 3 so 7 in total) and you can't go off the cuff because you screw it up for the others presenting—
RT: And you have to pack a lot into two minutes without over-crowding it. You get coached, but it's still hard.
PB: You're now at the end of the Frackman impact campaign, what did you learn?
RT: What I learned was to have faith in community again. The question has come up with DYING TO LIVE… Is it a film for cinema or television? Good Pitch really affects the documentary in the rollout—in a good way.
When people ask me why is this a documentary for cinema, I say because it's an important cause and once you have an important cause you need to have community and the best way to connect with a community and create the ongoing impact is in a cinema. With the roll out on Frackman what made the difference was being in the room. It's completely different from standing on a stage once or twice at a film festival. We were in the room 22 days in a row and that was just NSW. Introducing the film, hearing their reactions, talking to each other and talking about how to act.
The audience members were signing up to Lock the Gate, taking up our Call to Action card, forming alliances… they weren't just watching a doco and walking out the door saying "That was important" but then waking up in the morning, moving on and doing nothing.
PJB: What was the strategy on the roll out for Frackman?
RT: Our original concept was to do a rural roll out first and get the people who were most affected by the Coal Seam Gas issue to make some noise. We got strategic advice from experts and connections, through Good Pitch, on timing and approach, and areas to target. We moved from rural and crossed into the capital cities of Australia, and it went off… At the same time, Dayne was doing a stack of media and that together with the country runs got us attention in metro areas where we had hosted screenings. We went the cinema-on-demand route with TUGG. But we opened at the Byron Bay International Film Festival, which was the right territory and community for the fracking issue—the Northern Rivers were massive in the CSG debate.
PJB: So you used the cinema screenings to get the ground swell happening—it's that dark space and collective audience experience, there's nothing quite like it. What would you do differently this time around?
RT: I'd think through the whole release strategy carefully—i.e the WHEN. There's the pressure to release all at once on all platforms—cinema, television, DVD, online—all at once and I'm not sure I agree with that because you need to dedicate so much time to do each part properly.
PJB: Was there something on the roll out with Frackman that you felt you missed or mis-timed?
RT: The missed opportunity for us—not in terms of sales, but audience reach was that we still didn't end up on ABC or SBS, even as a late acquisition.
PJB: Why?
RT: The ABC and SBS usually want the first screening so if it has screened theatrically you're at a disadvantage but they still will screen films that have had a cinema outing.
PJB: Well, they wouldn't have much of a choice when it's designed as theatrical… and in this day and age where people watch across a variety of screens—
RT: We'd had a lot of success in those first few months and there was so much media attention also around the film and the CSG issue—the ABC wanted it but we ended up in limbo because the timing was off (and there were some unforeseen events that meant in the end, they didn't acquire it). With DYING TO LIVE, I'm hoping to get that right.
PJB: Anything else you learned on the Frackman adventure?
RT: I learned about duty of care to my documentary subjects. Dayne (the central character in Frackman) fought for his home and against the multinationals on CSG for a full six years. I was there for five of those years while we shot the film and I know it was a heavy psychological journey for him. There were times when he fought CSG in a group, other times with me alongside him but a lot of the time he was fighting by himself. There is a line in the film which describes what happens when the cameras go away: he's alone on a block of land wondering if he's being made sick by the fracking or will lose the only thing in the world he owns: his house and the block that it's built on which due to fracking, risks becoming worthless.…
The film took its toll on me but I felt that was nothing compared to what Dayne was going through. When the stakes are that high we, as filmmakers, need to be thinking about duty of care to the subjects of our films who are unsupported and on their own. Anything from a monthly chat with a psychologist to making sure they are coping and that the film isn't negatively affecting their life. It's important to support people when you can and know what to do when it is too much for subjects.
PJB: Or it can feel like exploitation or profiting (not literally) off the struggles of the subject.
RT: Yeah and Frackman required a really big commitment from Dayne. He let me into his life full time and we sometimes did 3-4 weeks all hours and over years, just him and me, in the HiLux ute, sleeping in swags, on the ground. When we didn't have production funding which wasn't until year 3, a lot of it came out of development funds and my credit card. I paid Dayne a wage (it wasn't much) because he wasn't working. Some days we worked 20 hours; he couldn't do anything else. I knew in the end I'd get paid something, and I didn't feel like I could ask him to hand his life over and give him nothing.
PJB: Did he have any editorial control or influence on editorial?
RT: No. None. It was never about that for him—he was living his life; I was making a film about what he was living. I knew he was struggling to survive so why wouldn't I try and take some of the psychological stress off him by making some kind of financial contribution?
PJB: And every situation and person is different. Films take a lot from people who are paid.
RT: Dayne and I are still working on Frackman. It released in March 2015 and it's not stopping. For the 12 months following the release, I worked on it full time. It might not stop until all fracking stops in Australia. One of the beautiful things Good Pitch is doing is giving something to the filmmaker and impact producer to continue working on the film and it's impact campaign. It makes a real difference­.
PJB: Tell us about your next project DYING TO LIVE.
RT: I was at the Opera House, at drinks after the Good Pitch Australia Event in 2015. And I was not going to make another doco,
I wanted a break after Frackman. I was thinking about maybe doing some Virtual Reality but I really wanted to go back to shooting under water documentaries which was where I started—to get back into the love of looking through the lens under water. The last twelve years I've been in Frack Yards, prior to that I did the Shappelle Corby doc with Janine—jails in Bali, and prior to that it was cataract operations… I just wanted to be in the water looking at a Clown Fish again.
PJB: I so get that… So you were at drinks post GPA2015 and…
RT: I was talking to Matt Scully from the ABC (commissioning editor) and he was asking, "What's next? I said, "I'm having a break, Frackman took a big toll on my family". He said, "I can't believe off the back of Frackman you're taking a break… This would be a good time for you to bring me a project." That night, I left the drinks, was in a cab on the way to the airport… I was flying to Dubai for a shoot on Janine's project and I got a phone call to say the shoot was off. I told the taxi to turn around, booked a hotel for the night and went back to the drinks… When I woke up in the morning it was the first time in a long time I didn't have to do anything so I stayed in bed and turned on the television and one of those morning shows was on.
The first thing I saw was Alan Turner, a man who had lost his seven-year-old daughter to a brain aneurysm; she had donated her organs and saved the lives of six people. For ten years he had been battling to increase awareness and the importance of organ donation in Australia. Then he said, "We are 22nd in the world and we should be in the top ten. Everyone I ask wants to donate so why are people dying on the waiting list?"
I got on the computer, googled him and the Zaidee Foundation he had established in his daughter's memory, found his number and called him. I got through to him but his phone was ringing off the hook and he was all wired up about to do an interview for The Project… We spoke briefly, I told him about Frackman and who I was in about 60 seconds. He asked me one question: "Are you any good?". I said "No, I'm absolutely shit, I'll send you a link to the doco." That's how it all started.
PJB: When did you know that it was a Good Pitch project?
RT:  After the first phone call with Alan. I could see the impact campaign in my head immediately… we need to change this—we should be in the top ten countries in the world for organ donation, not down at 22. And I realised I knew nothing about how to donate my organs and didn't know how to access the information. I didn't know how to get on the registry any more. I used to tick a box on my license but they've removed it. I thought about my mum and dad who don't use a computer—how do they register? And then I realised I haven't spoken to them about my want to donate or theirs… You can register to donate your organs but your family can still say no in the event that you have an accident and your wife isn't alive either. My wife and I have spoken and we know each other's wishes, but I've never spoken to my parents or my kids about it.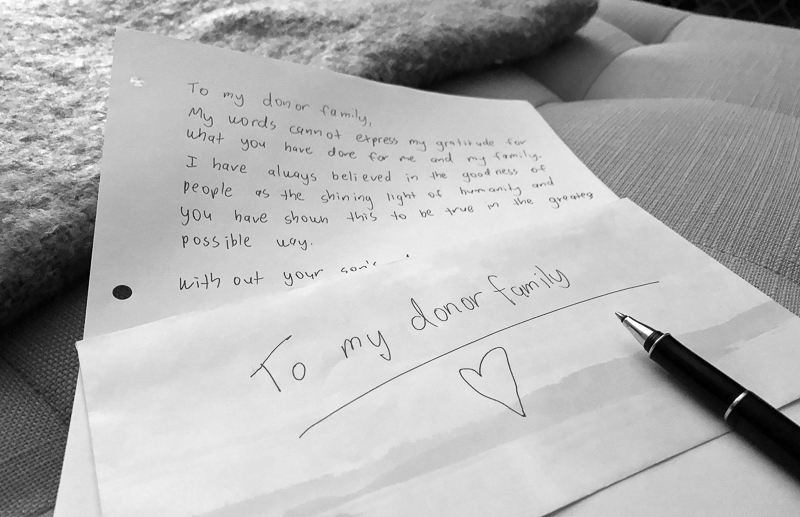 PJB: Do you want to encourage people to donate organs?
RT: It's early days but I do know it's more complicated and it's not only about donating organs. I want to take the audience on a journey through people's personal stories but also investigate the bigger structural issues, the questions, the difficult stuff. Alan's a major character because he lobbies for change but he's not the only character—I'm following six people waiting for transplants.
PJB: Based on some of the material I've seen and stories you've told me, it's moving and profound—the stakes are high because it is literally life and death.
RT: Have you seen the American Ad to encourage organ donation?
PJB: Ah, no.
RT: I'll send it you, it's hilarious—you'll love it.
I did. Here it is. The World's Biggest Asshole.
Tags:
CSG
,
Dying to Live
,
Frackman
,
Lock the Gate
,
organ donation
,
Richard Todd