Good Pitch² Australia will soon announce the films selected for the final event in November 2016. It's not that long ago since the inaugural event in 2014 when philanthropists and a coalition of partners jumped right in and backed six films: Call Me Dad, Constance on the Edge, Frackman, Gayby Baby, That Sugar Film and The Opposition. The atmosphere in the Sydney Opera House that day was heady—ask anyone who was there. Suddenly, what hadn't been possible was, at least in theory.
At that time, Impact campaigns were new to documentary filmmaking in Australia and people (myself included) struggled to get their head around what it all meant. That's not a surprise given that there is no funding of Impact, or an equivalent, via the usual suspects  (funding bodies, broadcasters, distributors, festivals etc). GP²A funds some production but the main objective is resourcing an impact campaign for social change.
I didn't foresee the commercial heft and advantages that come as a result of impact. (Forgive me, as a producer, it's impossible not to look for the business upside but let's be clear: this is not the primary aim of Good Pitch). And yet, it's logical once you know how it works: strategies designed for social change translate what used to be the limited life of a documentary into meaningful engagement (public awareness, impact, policy) and bump distribution and exhibition from minor to major (audience numbers).  When those two results come together, it's inevitable that the trigger for change is activated.  It's also satisfying to observe the appeal of all GP²A documentaries internationally—these stories and social issues are resonating beyond our borders.
Here, I take a look at the documentaries GP²A backed in 2014 and where they are now.
THAT SUGAR FILM
was one of the first films out of the gate and it has performed spectacularly—long before this blog got started. Perhaps unfairly, it missed out on coverage by us. (Not that they needed it).
Most of you would be aware of the film's Australian box office success (one of the first non-Imax documentaries to make over a million theatrically) and the famous supporters of the documentary (Jamie Oliver, Stephen Fry, Adam Goodes, Australian Cricket Team, Ellyse Perry, David Gillespie, LA Lakers, Dr Aseem Malhotra—among others)… but That Sugar Film's  social impact is perhaps less well known.
The film was completed in March 2015, and the impact campaign was operational by July. This included the set up of the website, promotion and distribution of the School Action Toolkit (aimed at giving teachers and schools the resources to teach kids about unhealthy versus healthy sugars); the Community Screening program was launched (community groups hosted screenings as did corporates such as Apple, Rio Tinto and Nestle); the free smartphone That Sugar App was released and immediately became the #1 trending free health and fitness app on the Australian iTunes store. A community continues to build around the film via the website where you can find recipes, guides on healthy eating, e-books, the app, blog and read about the school program (which the team are working on rolling out internationally).
Damon Gameau, the director of the film, established the Mai Wiru Foundation to support the work of the Aboriginal nutrition program featured in the film: ($2 from each VOD sale via the website is donated to the program. Download!)
Federal Health Minister Fiona Nash invited Damon to join the new "Healthy Food Partnership" convened by the minister to tackle obesity and encourage Australians to eat healthy foods. And that's just part of the story.
It keeps rolling on, and now into the international sphere (schools, distribution, screenings, health policy).
The makers are justifiably proud that they have reached kids, parents, adults who have changed their eating habits as a result of the film. You can check out the testimonials on their facebook page but here are some examples: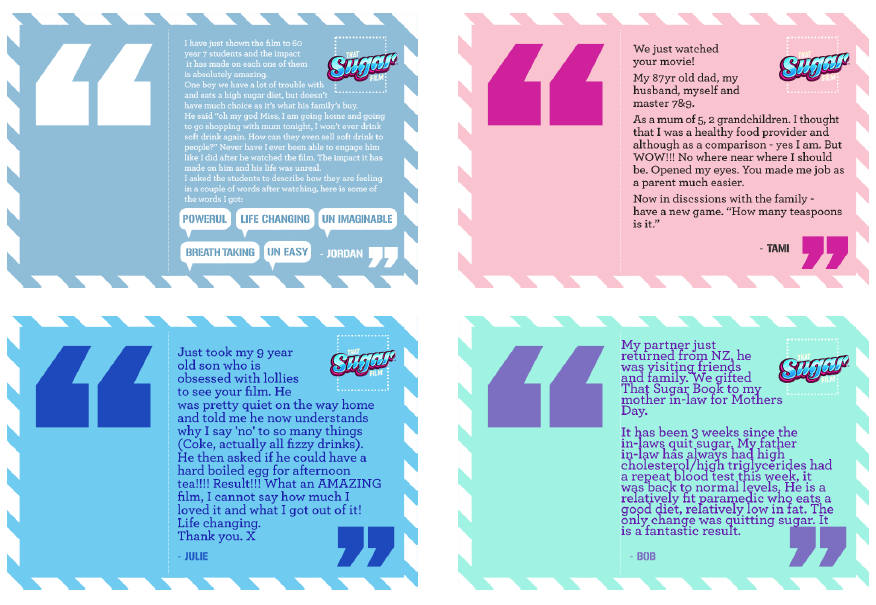 FRACKMAN,
a film directed by Richard Todd, tells the story of Dayne Pratzsky, a former construction worker and 'accidental activist' who with his neighbours in Queensland, opposed fracking on their properties.
The anti-Coal Seam Gas movement has united a coalition of people, across all political divides in Australia—it might be one of the only times in living memory that the Greens, farmers, activists, Fred Nile MP, and talkback radio personality Alan Jones were on the same page. (The landmark decision yesterday by the Land and Environment Court NSW that reaffirms the rights of  landowners and farmers to veto exploration or mining on their land is a fascinating development).
Production was completed early 2015, and the film's release was used by the anti-CSG campaigning alliance group LOCK THE GATE to educate and inform communities opposed to fracking and raise funds for their ongoing campaign (you can buy the film or stream directly from their site.  This week, Lock the Gate released an interactive map which reveals that 37% of Australia's land mass is in the sights of fossil fuel mining ambitions).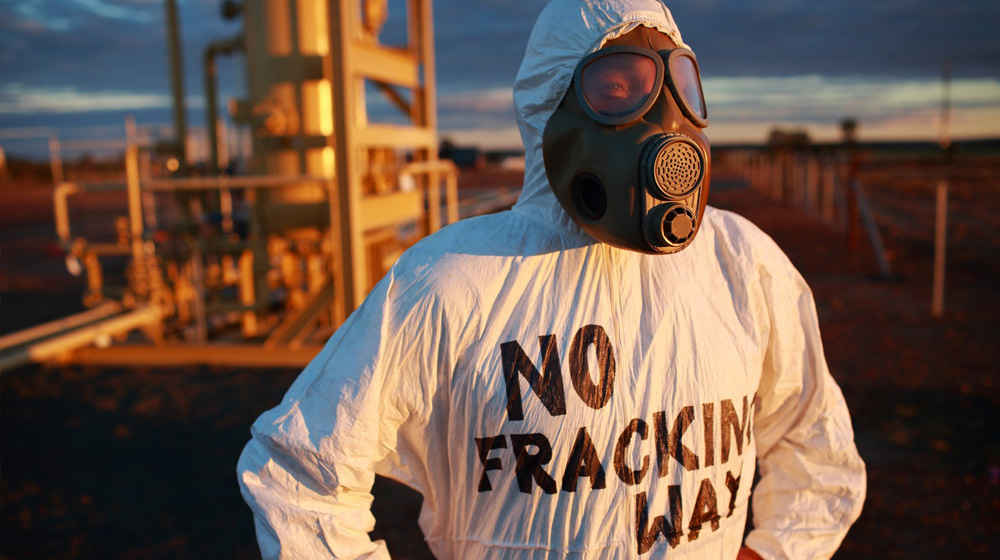 In February 2016, The anti-CSG campaign had a victory when AGL decided to abandon CSG projects in NSW and Queensland. In Gloucester, where local campaigners had been campaigning for four years to stop 330 wells being sunk in their valley, Julie Lyford, chair of the lobby group thanked the Frackman team for contributing to informing the community: "All power to you and your team for backing and making Frackman."
(Note: When Frackman was in production, 80% of NSW was covered with coal and gas mining licenses and applications.  After the release of the film, only 7% of NSW was covered by CSG licenses.)
Frackman continues its journey internationally showing at a number of festivals such as the Human Rights Watch Film Festivals in London and Toronto.
For Americans, fracking is also a significant environmental issue. In the US, there will be a grass roots release this year for Frackman, using a cinema-on-demand platform TUGG that gives individuals and organizations the opportunity to choose the films that play at their local cinemas.
CALL ME DAD
The former Governor General Quentin Bryce said recently that only "zero tolerance", and nothing less, would do when it came to domestic violence. She thanked the media, Rosie Batty and all those who had fought hard to raise awareness about this issue over the past year.
Sophie Weisner, director and producers Madeleine Hetherton and Rebecca Barry of Media Stockade were on to this social problem before it was in the media spotlight—and they were looking at perpetrators of violence: not an easy subject but as someone in the Good Pitch family said, to exclude perpetrators from the conversation is like "trying to deal with the destructiveness of alcoholism and excluding the alcoholic."
Call Me Dad premiered on ABC TV 1 in prime time and to an audience of over half a million—in the same week Sarah Ferguson's Hitting Home screened in November 2015 and when Rosie Batty, Australian of the Year, had dedicatedly pushed for urgent action on domestic violence. On social media, it was clear that in contrast to Hitting Home which focused on the misery and injustice done to women and children, the audience for Call Me Dad responded to the practical hope for violent men who want to change their behaviour but don't know how. (I've written about this in other posts on this blog).
Before the ABC broadcast, the film was screened to policy makers at Parliament Houses around the country to kick start a conversation about the role of men's behavioural change programs and how best to break the cycle of family violence. The community outreach screenings are in motion, and a broad range of organizations are screening Call Me Dad, including White Ribbon, Local Councils, Sporting Associations, and government departments such as the Victorian Department of Justice, NSW Department of Social Services and Queensland Department of Communities, Child Safety and Disability Services.
The film is also being used by a range of men's behaviour change counselors as an education tool for men in counselling and correctional services in prison. It's an important film to see, especially if you believe violent men can't and won't change.
Call Me Dad is screening around Australia in the Sydney Film Festival's traveling Program 2016 and at the Human Rights Film Festival in Melbourne in June.
Anti-domestic violence campaigner Rosie Batty has launched a new five point plan that aims to reform the family law court system and puts a greater emphasis on the safety of children and parents. She is appealing to all political parties to commit to the reform ahead of the election.  There will also be a petition.  For more information, please see the Never Alone website.
GAYBY BABY,
a film about four same–sex families told from the point of view of the kids, had a bumpy start in Australia, before the impact campaign had even began. Earlier this year, I wrote an opinion piece on this blog mapping the events that saw an attack on the film by the Daily Telegraph and subsequent banning by the NSW Education Minister who ruled that it was not to be screened during class time in our squeaky clean State.
At the same time, on home turf, the film attracted huge bi-partisan support from audiences, the media, politicians, film festivals and broadcaster SBS. The filmmakers have released their School Action Toolkit in Australia today and in this sector will be working with their partners Safe Schools Coalition, FYA, APPA, APSPA, Families Australia, Beyond Blue and the NSW Teachers Federation.
Meanwhile, in the US, within four days of release, Gayby Baby was the Number 1 LGBTI Film on US iTunes; No.2 doc on UK iTunes and No.4 doc on US iTunes. Evidence there's a vast audience and hunger out there to support what the film is about: diversity, equality and respect to all people who have and want families—be they heterosexual or LGBTI families.
How did they do it?
Supergravity Pictures acquired the rights to Gayby Baby and partnered with LGBTI and family equality organizations worldwide including the Family Equality Council and COLAGE to host theatrical screenings and organize digital-viewing parties, but that's not all. They released the documentary in partnership with Heard Well, a music label co-founded by Youtube star Connor Franta, which also curated music for the film. Connor Franta (if you don't know) is 23, has written a New York Times best seller and boasts 4 million Twitter followers and 5.2 million YouTube subscribers.
Welcome to the brave new online media world and youtube stars.
Here is, "A Video to my Future Kids" that Connor Franta launched for Gayby Baby's release on May 1, International Family Equality Day. As of May 11, it's had over half a million views and building.
So, Gayby Baby caused a minor furore by conservative commentators in NSW, but the popular response to the film on YouTube and iTunes in US and UK, where marriage equality has been achieved, told a different story. The focus of the criticism in Australia was about 'protecting' children from a film about same-sex families. By contrast, it was not an issue for the teenagers around the world who follow Connor Franta or the readers of Teen Vogue. When Josephine Skriver—a Victoria's Secret model raised by same–sex parents—heard about the film she reached out to the filmmakers and is now an ambassador for the film. From Teen Vogue US:
Josephine believes that "everyone should be free to love whoever they want to love," and she hopes talking about her family and this documentary will help people keep an open mind when they think about love, family, and gender roles.
Australia, you're behind the times. Ouch.
ZACH'S CEREMONY
had its world premiere at Hot Docs International Documentary Festival, the largest and pre-eminent documentary festival, market and conference in North America. The filmmakers: director Aaron Peterson, producer Sarah Linton, associate producer Alec Doomadgee and the star of the show, Zach—were all there. It's scary waiting to see how audiences respond to your film when you've been locked in the dark chamber of creating so if it goes well much happiness is had—as can be seen from these photos posted by the team on twitter: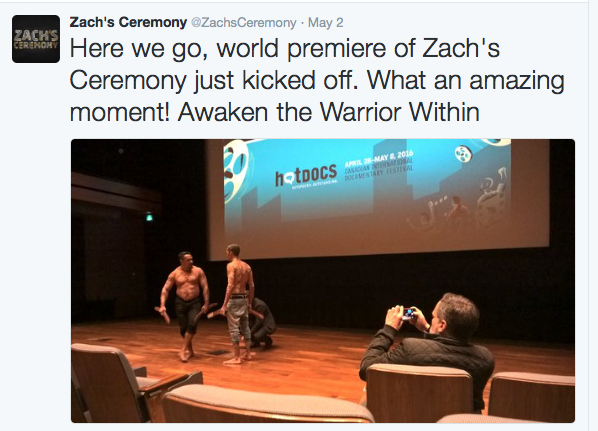 From an early review of Zach's Ceremony by Andrew Parker:
The film would be remarkable enough on its own for the familial aspect, but the latter half gives viewers a glimpse into the titular ceremony, something rarely glimpsed outside the community. It's depiction of aboriginal life is tough, but respectful, and the characters are more relatable than one might believe; especially in Canada where First Nations people face a lot of the same issues.
Parker goes on to say this is not a film only for those interested in Aboriginal affairs, "This is a family drama that will resonate with families everywhere." Another review by Douglas Gosse, identifies a magic moment while watching the film.
Filmed over 6 years, we see Zach develop from an earnest boy of 10 to a young man of 16 years. A 10-year-old Josh enjoys fishing, biking, soccer, and hanging out with his friends, and then startles the audience by saying, "I want to be a man, not just a boy who thinks he knows everything.
He is a somebody that Zach. It's impossible not to be moved by him.
Zach's Ceremony screened at Sydney Film Festival 2016, to a full house.  It also won the Foxtel Movies Audience Award which is a great vote of confidence not only for the filmmaking but the popular appeal of the film.  Now, the impact campaign begins!
THE OPPOSITION
The Opposition is a film about  Joe Moses and his David and Goliath battle against a development company who want to build a luxury hotel on Paga Hill, Papua New Guinea, where he and his community have lived for 50 years. Director Hollie Fifer and Producers Rebecca Barry and Madeleine Hetherton of Media Stockade have been on a wild ride with this film.  Most of it—not fun.  After a lengthy legal battle, a redacted version of The Opposition screened at Hot Docs in Toronto and the Sydney Film Festival.  One of the main players in the film, Dame Carol Kidu, succeeded in getting an injunction, in the NSW Supreme Court, suppressing use of footage in which she appears. (You can read the background here). In mid-July, however, the Supreme Court ruled in favour of the filmmakers—which is wonderful news because it's a powerful investigative human rights documentary and the world will now get to see it.  The 730 Report, ABC TV,  did a story in which the filmmakers and Dame Kidu are interviewed after the ruling—it was good to see Hollie and Rebecca smiling again.  Let the Impact Campaign begin!
You can read my in-depth interview with producer Rebecca Barry about filmmaking, impact and her experience with her first film I am a Girl  (here).
Constance on the Edge
Directed by Belinda Mason and produced by Marguerite Grey,  this is the story of Constance and her family: refugees who settled in Wagga Wagga, NSW a decade ago, having fled war in Sudan via a refugee camp in Kenya where they had been living for ten years.
In the war zone I was fighting for survival, in the camp I was fighting for human rights, and here my fighting is different—I'm fighting to belong.
The film's world premiere was at the Sydney Film Festival in June 2016 and the session sold out.  It was a runner up to Zach's Ceremony in the Foxtel Movies Audience Award at the festival which again speaks volumes for documentaries  which move, entertain and resonate.  If you haven't yet seen it, I won't spoil your discovery of it but I can say: it's wonderful—affecting, sad, funny, tender, optimistic and a testament to the out–loud courage of Constance and her family, as well as the sensitivity and talent of the filmmakers. It casts a new light on the refugee experience in Australia—numbed as we are, often, by media reports that strip people of their individual identity and the complexity of the struggle when trying to make a new life in what to refugees is a foreign country.
This isn't a trivial comment: I wanted to hang out and go slap the racks (clothes shop) with Constance after seeing the film.  She's a woman I want to know.
The music has been composed by Antony Partos whose work on Sherpa won him the Critics Award for Best Documentary Composition. The animation (fragments in the film) are by Susan Danta.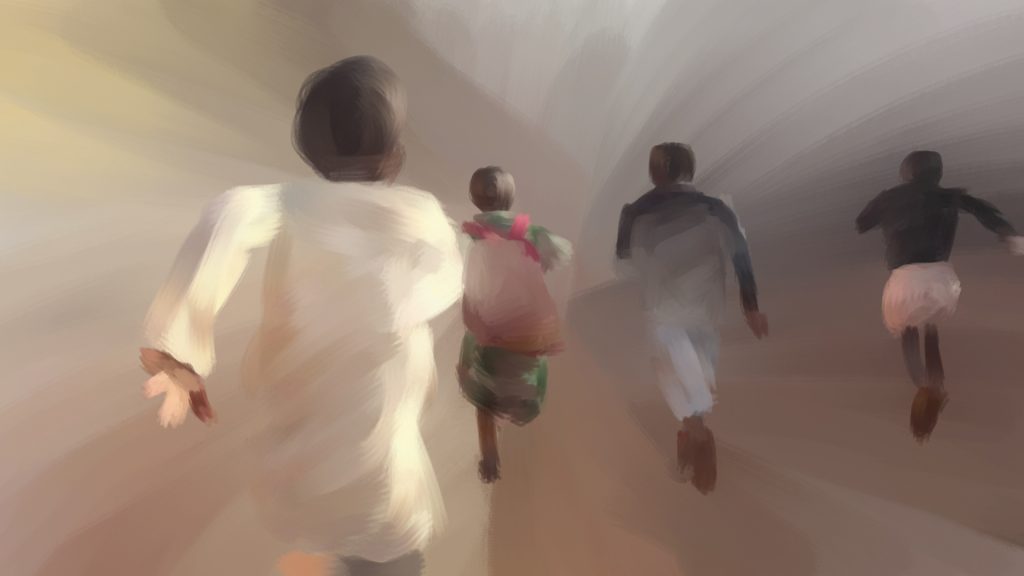 Bow down philanthropists, partners, filmmakers, impact producers, allies, givers in-kind, DAF (Documentary Australia Foundation)  and the Good Pitch² Australia team who have orchestrated this major event over the past three years and keep the momentum and great work coming.
Stay tuned. There's more documentary and social impact magic to come.
Tags:
call me dad
,
Constance on the Edge
,
Frackman
,
Gayby Baby
,
Hitting Home
,
Lock the Gate
,
Rosie Batty
,
That Sugar Film
,
the opposition
,
Zach's Ceremony